03/31/2018
Michelle Wallace
The Great Plains Family Medicine Residency program is profoundly saddened to share that our Program Director, Dr. Neal Clemenson, passed away unexpectedly on Thursday, March 1.
01/31/2017
Shonna Soria
Today we celebrate the life and service of our co-worker, Barbara Anspaugh.
10/12/2016
Dr. Jenna Geohagan, PGY 2
This time of year makes me reminisce on the excitement and accompanying stress that surrounds trying to figure out which program suits your educational, family, and overall life needs. Therefore, I wanted to highlight three of my favorite aspects of the Great Plains Family Medicine Residency Program, so applicants have a better idea of who we are as a residency program.
09/14/2015
Neal Clemenson, MD
09/09/2015
Michelle Wallace
The faculty, residents, and staff at Great Plains came out to support the United Way Wacky Bed Races by entering two teams and they tied for 4th place!!
10/21/2014
Grace Wilson PhD
Nationwide, there is a movement towards collaborative medicine and integrated behavioral health services.
07/23/2014
Kelly Roberts
June 20, 2014 was a very good day...at least for the Great Plains Family Medicine Residents! The OAFP "Quiz Bowl" Trophy is now solidly at our home clinic for the 2014-15 year, thanks to Drs. Vonfeldt, Wright, Landt and Wheeler.
06/11/2014
Kelly Roberts
Small changes are appearing around GPFM in anticipation of our incoming resident class.
03/28/2014
Neal Clemenson, MD
01/10/2014
Terrence Truong, MD
After the blur of a whirlwind of a holiday schedule, GPFM physicians and staff alike reconnect with one another as we resume our work during this first full week of the new year.
Sewing Up the Bacon
Posted by Kelly Roberts on 06/20/2013
The educational dialogue is punctuated every few minutes with group laughter as the incoming resident class works through Dr. Truong's "Suturing Workshop" - just one of the many activities scheduled for them during their orientation week. Five new residents, a medical student and an undergraduate student are all working on various stitches and objectives as they address the pork belly on the table in front of them.
Tool identification, string and knot vocabulary, sutering on a flat surface and suturing in an indentation or "hole" are just some of the components included in this particular training. As they work through the techniques, they're learning on several levels: getting to know each other as a class, understanding the various learning styles and skills possessed by each resident, and for this particular training - beginning to feel comfortable with cutting and sewing at different depths and on different surfaces.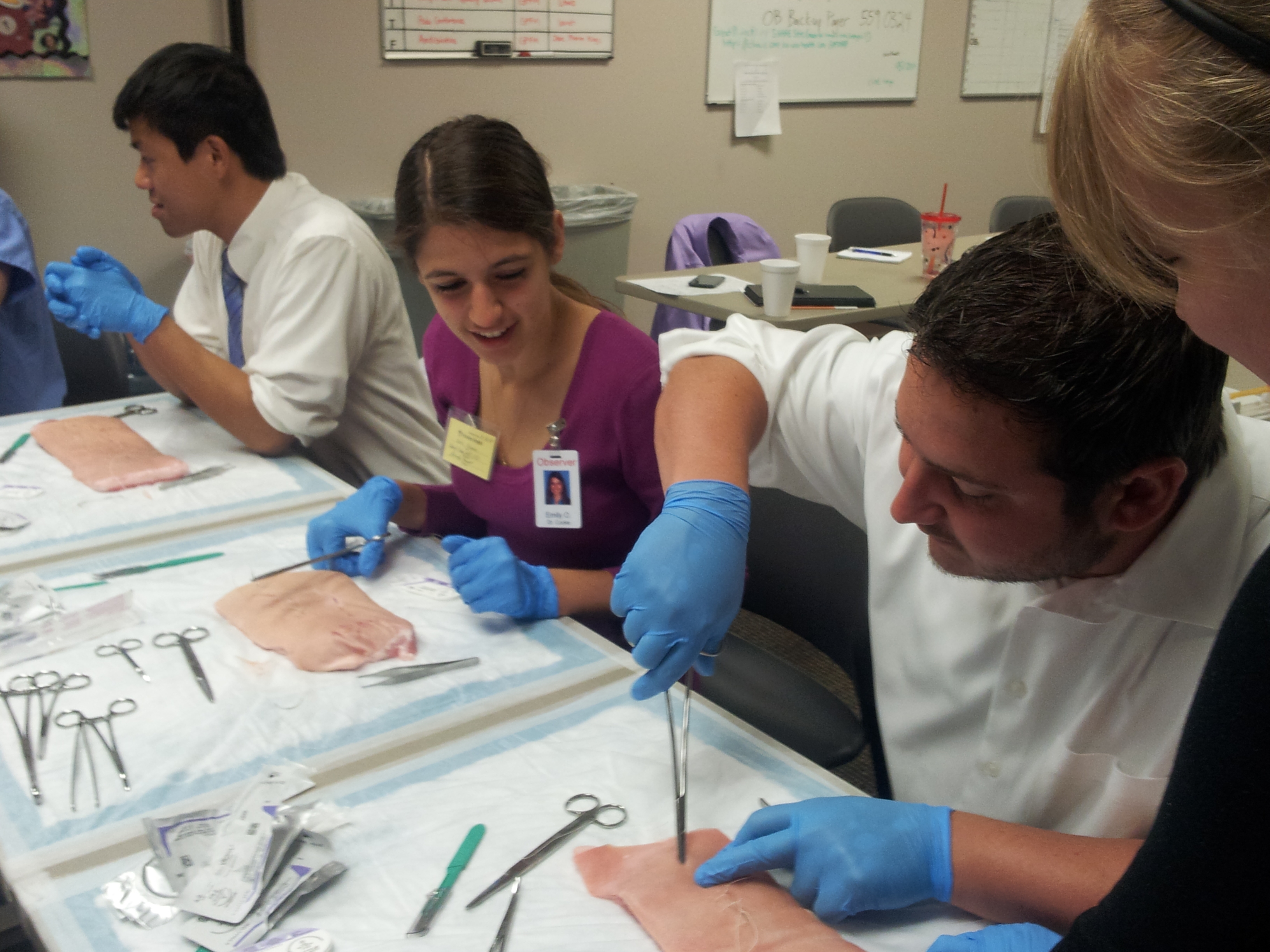 Good luck, class of 2016...we're glad you're here!