03/31/2018
Michelle Wallace
The Great Plains Family Medicine Residency program is profoundly saddened to share that our Program Director, Dr. Neal Clemenson, passed away unexpectedly on Thursday, March 1.
01/31/2017
Shonna Soria
Today we celebrate the life and service of our co-worker, Barbara Anspaugh.
10/12/2016
Dr. Jenna Geohagan, PGY 2
This time of year makes me reminisce on the excitement and accompanying stress that surrounds trying to figure out which program suits your educational, family, and overall life needs. Therefore, I wanted to highlight three of my favorite aspects of the Great Plains Family Medicine Residency Program, so applicants have a better idea of who we are as a residency program.
09/14/2015
Neal Clemenson, MD
09/09/2015
Michelle Wallace
The faculty, residents, and staff at Great Plains came out to support the United Way Wacky Bed Races by entering two teams and they tied for 4th place!!
10/21/2014
Grace Wilson PhD
Nationwide, there is a movement towards collaborative medicine and integrated behavioral health services.
07/23/2014
Kelly Roberts
June 20, 2014 was a very good day...at least for the Great Plains Family Medicine Residents! The OAFP "Quiz Bowl" Trophy is now solidly at our home clinic for the 2014-15 year, thanks to Drs. Vonfeldt, Wright, Landt and Wheeler.
06/11/2014
Kelly Roberts
Small changes are appearing around GPFM in anticipation of our incoming resident class.
03/28/2014
Neal Clemenson, MD
01/10/2014
Terrence Truong, MD
After the blur of a whirlwind of a holiday schedule, GPFM physicians and staff alike reconnect with one another as we resume our work during this first full week of the new year.
Dr. Breed Goes to Washington
Posted by Kelly Roberts on 06/27/2013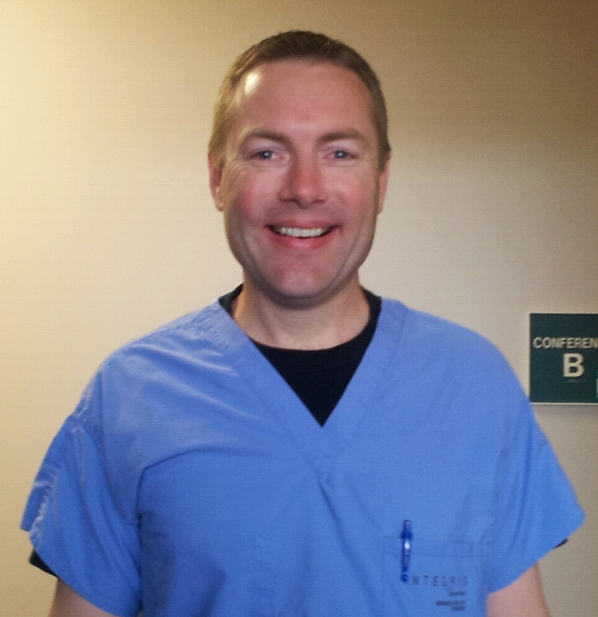 You just got back from Washington D.C.
Indeed!
What was it that you learned about the national health care systems out there that you feel might be important for our incoming residents to know?
That is a hard question because it such a vast topic. (pauses) It's bigger than I ever imagined, and only staffers really know what's going on…and they only know their part. I think everyone wants to get "healthcare for everyone…," everyone wants everyone to be well. The debate is about paying for it, and finding ways to pay for it, and passing back and forth different plans to change and mold this thing.
I also think that the Republican side is starting to abandon "Repeal and Replace," and are now moving toward molding and helping.
This is interesting to see the shift you mention because up until six months ago we were hearing that "Repeal and Replace" you mentioned.
Well, we're still hearing it amongst new guys who are coming on TV and are campaigning for the next election. So, I've heard it on TV, but what I saw on The Hill is different.
You mentioned being surprised about how many Medicare claims are paid in one day. What was that number?
Four and a half million claims per day.
Wow, so here you are back in Oklahoma…what are your thought after having been there, and now here again?
I am GLAD to be home, and I don't want to go back. Other than as a tourist…it is so crowded there, people aren't friendly. You sit on the train every day staring down at your iPhone, never making eye contact, never saying good morning, you walk in a crowd down the street never talking to the person beside you, trying to avoid bumping into people, and I didn't enjoy that at all. I couldn't wait to get back.
Do you think "right now" is the best place for your D.C. rotation? Would it have been different at a different time in your education?
I think it was appropriate. I think putting it at the end I had some background – at this point – in healthcare, some understanding of what I was dealing with. I've had three years to read the newspaper, so when I really dug into the stuff on the Hill I could understand what I was doing. And that's really what I did. I dug so deep in on detail – on things like Drug Diversion, and investigations and hearings…things like that, along with the broad reading I was doing. So yes, I think it was appropriate timing.
It's almost like a "Capstone" experience in a way. We need to move on to hearing about your life, but…what's a "Drug Diversion?"
When people take pain medicines – well, any medicines, but pain medicines that doctors prescribe and then put it on the street for sale.
Ah. So, here you are week and a half from graduation. What kinds of things are you trying to wrap up before you get out of here?
I am trying to get all my privileges nailed down with my new hospital [where he'll be working after graduation]; I've tried to get all of the deliveries and procedures I can get because I only have seven more days to have somebody watching my back. After that I'm on my own, and it's a little bit scary. But, I – uh – did a C-section last night and have two today, and am continuing to go hard at it right up to graduation.
Tell us about where you'll be practicing, where is the location? Is it in the hospital or detached somewhere?
At Integris Canadian Valley we have a beautiful clinic facility inside the hospital, literally next door to the OB ward…very convenient for someone doing OB work. It's a large clinic with eight physicians now, and one PA. It's set up in pods, much like the one we're in now, more of a circle rather than in a straight line, but otherwise looks close to the same.
Do you have your "home-base" yet? Do you know where your office is?
I have a corner office, facing north.
And so what will you see out your window?
I will see a large field, and then I-40 beyond that.
And so have you met or connected with the professionals yet? Learned names?
I rotated with that office when I was still a medical student, and actually one of my new partners there wrote a letter of recommendation to get me into Great Plains.
So, they've been part of the fiber of your education.
Yeah. And, they've been there…in my hometown. I started rotating there when I was a second year medical student, went back again when I was a fourth year medical student, and kept in contact with them throughout residency…and now I'll be joining them.
Unlike some of the other residents who might be joining our program at a different time, or were here, you have an OB aspect to your practice that distinguishes you as having a specialization or emphasis in that area. You've spent quite a bit of time building up your experience with OB procedures. So I wonder for those incoming, do you have suggestions to help them forecast what they would need to plan and accomplish if they wanted to follow in your footsteps? [Note: some family medicine doctors are readily credentialed to deliver babies as long as they have the experience necessary; other medical systems have guidelines that disallow that type of practice.]
If anybody wants to do obstetrics they can do it. They just have to work REALLY hard to get the experience and the numbers…at least to practice in the metro area. I have a colleague who is going to another small town – further out than where I'm going, and her requirement was 35 C-sections. Well, she's already gotten that. There is no official requirement where I am, but you can bet they're going to want a lot. Also, no family doctors have ever been privileged to do C-sections there… so hopefully I will be the first.
I guess what I'm saying is that in the metro, it's going to be much tougher to get those privileges. Out of town…thirty-five will do. In town – I've done over 200 and I hope that will be enough.
And so you've done everything you can for the last seven years to lay the groundwork, and there's really nothing else…it's just a matter of the people who decide privileges. But you've had that single-minded goal, and I think that's important information in and of itself. Trying to decide at the last minute is not going to hack it within the metro.
I agree.
Another distinction you have here is that you and Serena served as chiefs. I wonder about highs and lows of being a leader?
[Pauses] I didn't have many lows. There were a couple of times when residents would bark at each other when they were tired or something…but we haven't had much drama. Really, it's just been little things here and there – if someone's mad at someone else they might come to us and say something, but it hasn't been anything I've lost sleep over.
Upside? Getting to represent my program…getting the chance to be the one that walks through the hall and have people associate me with this program. And I love this program.
What do you want to take from here and put into your practice?
I don't want to change…I want to take the things that my attendings have taught me and continue to be me. And, I hope that going and being the nicest guy that I can be will help people to want to welcome me there. And, otherwise I will just go adapt to whatever they've got going there.
What about teaching? Do want to be a teacher at some point?
At some point. I know it takes time, and so I don't want to take a student next month…but once I learn the workflow and get my feet on the ground, yeah – I would love to get back into teaching.
Anything you want to say in this interview that we haven't covered?
It's really hard to say – there's so much about what makes this program better than others. I think mostly it's our attendings; they have four distinct personalities that together make up one "super-doc" and, you know, I love the warmth of this place. I love the staff. I feel like I've been married to these people for three years and I'm sad that I'm moving on because I don't want a divorce.
Residency IS like a marriage or family, isn't it?'
Yeah, I know I need to move on with the next phase of my life, it's just bittersweet. The way it tends to go, like with medical school, is that when you graduate you don't keep in touch…because everybody's working 7 to 6, and there's no time to get together. So, I hope I can stay in contact with the attendings, with the techs, with some of the people who have graduated before. But, I would rather find some way to GUARANTEE contact with the program.
So let's wrap up with your idea of a super-doc. If there was a Super Doc and they have four super powers, what are the four individual faculty super powers?
I think that if I had a four-headed Super Doc, they would be very tough and disciplined because of Dr. Palmer. Dr. Truong is going to stick a knife or a needle in anything, so he's going to be the procedure arm of it. Dr. Clemenson and Dr. Owens are both so amazingly smart. Dr. Owens is like Dr. Clemenson but with more random trivia (chuckles). When we are rounding, he's always talking about, "Who was the first person to invent the IV?" or… "In the days of the Greeks when men were sick, they would bring out the black bile and the yellow bile,…" and he will talk about lots of trivia and history and it's always very fun. I guess you could call it the medical humanities. And, you know Dr. Clemenson is very pragmatic in medicine. He doesn't want to over-treat or over-test, he's evidence based and he knows the evidence. And he knows what research is out there, and agrees when treating the population, there are certain guidelines, so he mostly sticks to those standards. And he's not afraid to apply some art where he needs to. I hope I can be that good someday. So, how do I build my Super Doc? Discipline, procedures, evidence-based practice, and Dr. Owens' photographic memory.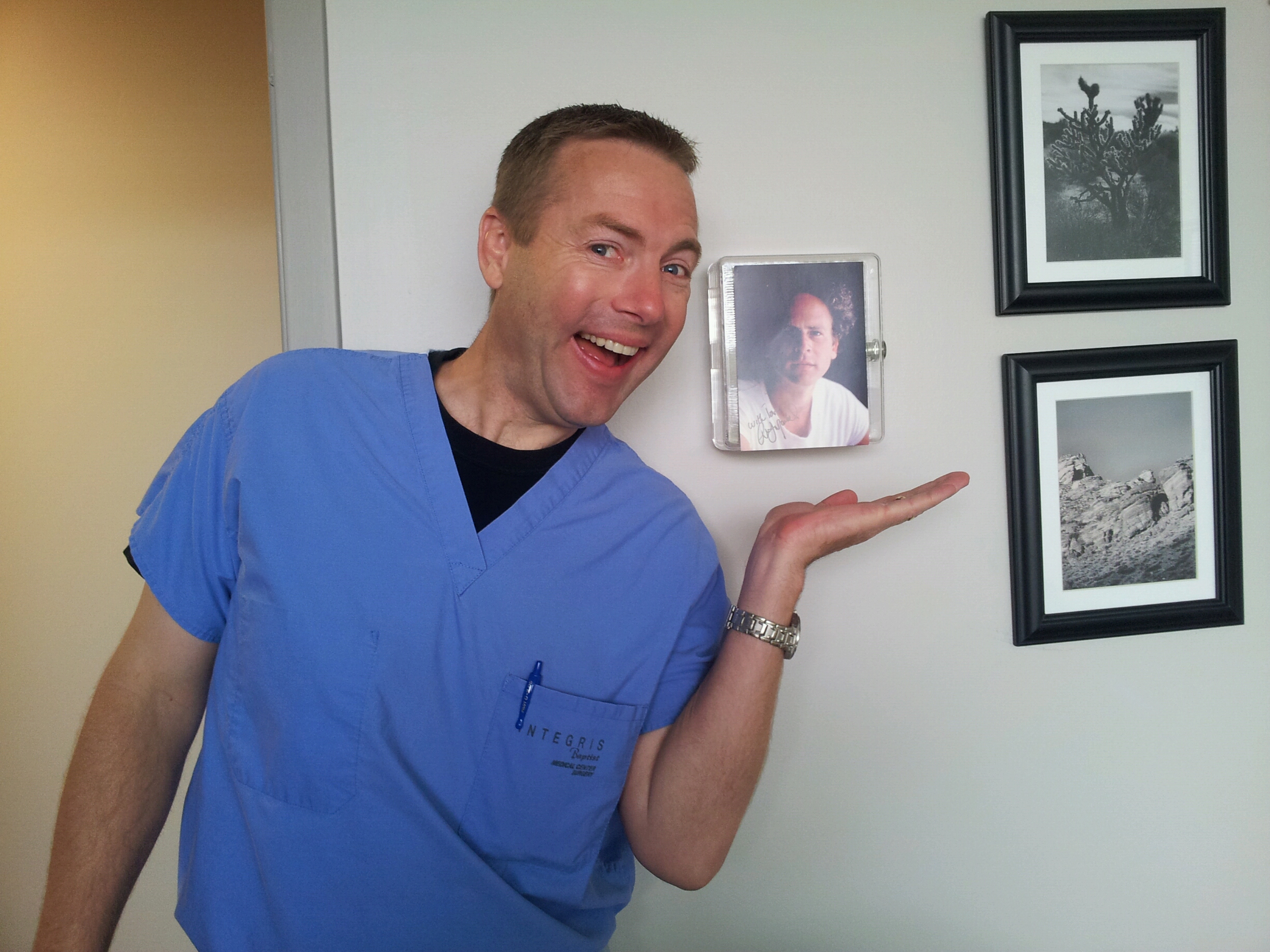 Above - Dr. Breed goofs off during the interview. Apparently he's "Holding up Art Garfunkle."