03/31/2018
Michelle Wallace
The Great Plains Family Medicine Residency program is profoundly saddened to share that our Program Director, Dr. Neal Clemenson, passed away unexpectedly on Thursday, March 1.
01/31/2017
Shonna Soria
Today we celebrate the life and service of our co-worker, Barbara Anspaugh.
10/12/2016
Dr. Jenna Geohagan, PGY 2
This time of year makes me reminisce on the excitement and accompanying stress that surrounds trying to figure out which program suits your educational, family, and overall life needs. Therefore, I wanted to highlight three of my favorite aspects of the Great Plains Family Medicine Residency Program, so applicants have a better idea of who we are as a residency program.
09/14/2015
Neal Clemenson, MD
09/09/2015
Michelle Wallace
The faculty, residents, and staff at Great Plains came out to support the United Way Wacky Bed Races by entering two teams and they tied for 4th place!!
10/21/2014
Grace Wilson PhD
Nationwide, there is a movement towards collaborative medicine and integrated behavioral health services.
07/23/2014
Kelly Roberts
June 20, 2014 was a very good day...at least for the Great Plains Family Medicine Residents! The OAFP "Quiz Bowl" Trophy is now solidly at our home clinic for the 2014-15 year, thanks to Drs. Vonfeldt, Wright, Landt and Wheeler.
06/11/2014
Kelly Roberts
Small changes are appearing around GPFM in anticipation of our incoming resident class.
03/28/2014
Neal Clemenson, MD
01/10/2014
Terrence Truong, MD
After the blur of a whirlwind of a holiday schedule, GPFM physicians and staff alike reconnect with one another as we resume our work during this first full week of the new year.
All Things New: Exit Interview with Serena Anderson, M.D.
Posted by Kelly Roberts on 07/08/2013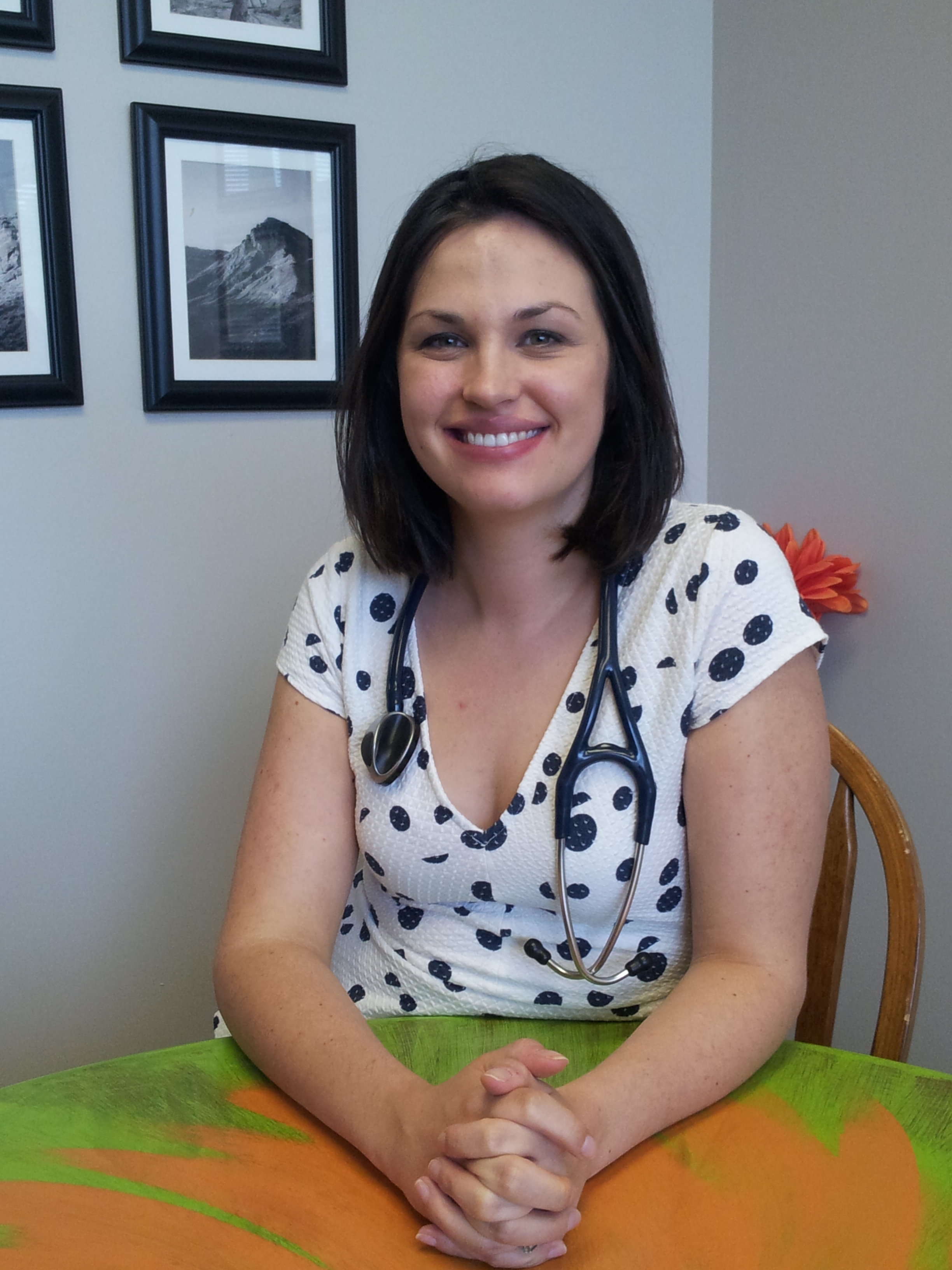 Do you want to talk about your baby?
Sure!
So, tell us about it. What would you like to share?
So, it's our first baby and we're excited about that, and it's a little girl – we just found out last week. I'm due November 6th, but I think it will be a pretty nice transition. Integris has some nice benefits [for family leave] so I'll get to spend the holidays with our new baby – Thanksgiving and Christmas – so all our families are excited. It's the first grandbaby on both sides, so that's a big deal (smiles). I feel her move now. She's kicking and I can feel little jabs now, so she's getting stronger.
So are starting to plan for a baby space in your house?
Well, actually our house flooded with the storms. It kind of worked out well – the nursery was going to be in one of the rooms that flooded, so we had to tear out that carpet – so we'll have new fresh carpet for the baby. We may do some painting while there's no carpet in there right now.
You are no longer one of the co-chief residents at Great Plains. When did the official transition to the new chiefs take place?
It was April 1st. It's been nice, because I made the call schedule every month – it was something that was always "blooming," and people were unhappy about the call schedule sometimes, so I had to do a lot of negotiating. It's like working a puzzle – trying to fit everyone's requests in. So, it's nice that responsibility is over.
I remember you wrote a post about creating the schedule. So, you have to cover nights and weekends, is that it?
Yeah, it's for both. But we have a "night float" rotation except for two months out of the year, because the upper levels do night float – so there's ten months that are covered by night float (10 upper level residents total—one month each). So the two months where we ALL shared call were really tricky – but for the most part it all works out really well. Most all the time people get the exact schedule they want. There are just occasional times, like this summer is really busy because of wedding season, graduations, and things like that people need to be off work for and around the weekends…there are a lot of requests.
I want to know about the job you are getting ready to start – are you working in the same area as Charlotte (a former resident)?
Yes, it's the same building – the same clinic. I'm on a different side of the building so we don't share a nurse's station or anything like that.
What's the name of the clinic?
It's "Integris Memorial West."
Have you spent some time over there?
A little bit – yeah. I went to the Open House which was in October, and they already have my office space all lined out for me, which is nice and exciting. And I've been talking by e-mail a lot to the clinic supervisor there.
Serena, you're moving into a new office space at a new job, you have newly redone carpet because of the flooding and you're going to have a new baby pretty soon. Your life is going to be different! Are you okay with that?
Yes, I think so! It is a lot of changes, but good changes.
Can you reflect upon what you would tell these "incomings" now – what they need to pay attention to?
I would just to take advantage of all the learning opportunities you have. A lot of times you just get into the mentality that this is "work" but there are so many opportunities to do things with supervision, which is really nice, and you get a little bit of shelter while you're learning. So, take advantage of procedures, and opportunities in the ER…
We haven't had anyone speak about the ER yet in these "exit interviews." Tell us about some of the more unusual or interesting experiences from that ER rotation.
Well, sometimes we'll just be down there working in the ER and we'll hear, "Hey – there's a lumbar puncture needed here, do you want to do it?" and even if we're really busy, it's very helpful if you can try to squeeze that in and make time. So, things like that happen a lot, I've done a paracentesis when I've just been on call. And then sometimes our own patients come in when we're in the ER, so we do the admitting as well. Some people moonlight in the ERs, which you get a lot of good learning there…I didn't moonlight in the ERs, but I moonlighted in urgent care systems and a long-term care hospital, and I got a lot of procedures at urgent care – lots of lacerations and things like that.
What are typical lacerations you see coming into the urgent care?
People cut their fingers all the time. That's definitely the most common body part that gets cut – the finger or the hand.
What's your favorite string for sewing stitches?
Ethilon. It's probably what I'm most comfortable with.
Any unusual rotations that you've completed people don't normally choose?
Well I did a rheumatology elective – that was one of my favorite. I love working with Dr. Schnitz. He was a really great teacher.
What was it about his style you liked?
I like the way he communicates with patients – he's very hands-on. He looks at his own X-rays, he does his own joint injections, things like that if necessary, so it was just a very good perspective. He spent a lot of time with his patients.
Is there anything here you're going to miss?
I'm going to miss the faculty and the camaraderie…I was talking with one of our recent graduates, Christy Kerr, and she said, "It's so lonely when you get out into private practice because you don't have as many people to talk to…" She said, "You have an office staff, but it's kind of different – so you just, you don't have all of your friends there."
What are looking forward to the most?
I think I'm going to like having my independence. Not having to ask attendings to come and look at patients for billing purposes – you know, not having to check out patients any more will be nice. I think it will just help with my efficiency and my flow.
Have you ever thought about becoming a teaching physician? Having students or residents work through your practice?
Yeah, I've thought about it. Probably not right at first, not the first year or so…but later.
Anything you'd like to say about the program? Any closing comments?
I'm just really happy that I chose residency here. I would choose it again. I feel like I had a really great learning experience and it molded me into a really good doctor. I feel like I was lucky…because to some degree, when you're choosing your residency program – you don't really "get it." You KIND OF know what to look for, but you don't get a real good grasp of the program. So, I got lucky.
I would imagine that WOULD be hard – looking from the outside in, not really having a clue as to the day by day style. Do you have any other doctor friends that weren't "lucky"?
Yeah – I have friends who have done residency programs all across the country. And I did some research where I know a lot of people who went to different medical schools as well – and there are programs people are not happy in, so that's really important – to make sure that the residents within a program are happy.
How about a funny story? Any memories that make you smile?
We went to the Chesapeake boathouse and Oklahoma River for our resident retreat this past year. We learned how to row together, which was great. The funniest part was that they seated Jason in the boat behind me, so he may have been splashed a little (intentionally) when he was teasing everyone to "row faster." We had a great time together as a program.